Everything You Need to Know About Built-Up Commercial Roofing System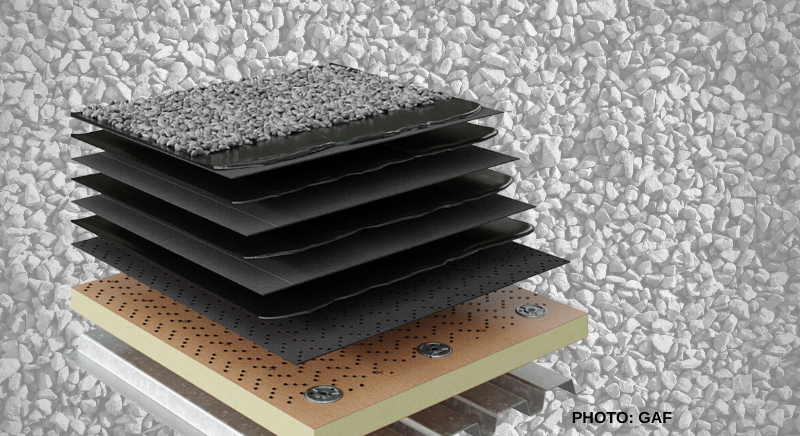 Popular for low-slope or flat roofs, Built-Up Roof Systems offer a number of benefits.
The basics of Built-Up Roof Systems
Built-up roofing systems [BUR systems] – known as "tar and gravel" roofs – are among the most frequent commercial roofing systems. Built-Up Roofing Systems have a history that spans more than a century in the United States. The system is actually alternate layers of bitumen and reinforced fabrics that create a finished membrane.
Layers are called plies. So, a 4-ply roof has four layers of roof membrane construction. Stone or gravel is the last layer of a built-up roofing structure.
Modern advances in roofing manufacturing and technologies have created alternative options, and contractors can choose to use cold-applied adhesive solutions instead of hot-mopping asphalt and kettles.
As of this writing, a typical built-up roofing system costs between $5.50 and $10 per square foot* to install on a standard business roof. The pricing will vary depending on the materials you select. 
Benefits of a Built-Up Roof Systems
A commercial built-up roof can endure up to 40 years if it is properly erected and maintained. Other advantages of built-up roofing systems include:
Durability: Providing layers of protection, BURs offer redundancy, so if the top layer is damaged, additional layers still protect your building from water intrusion. 
Time-tested technology: With 100 years of history, you can't argue the system's effectiveness. 
Energy efficiency: Depending on the material you choose, you can add layers of thermal protection. Reflective coatings can also be added, providing additional efficiency. 
Excellent waterproofing
Precautions for Built-Up Roof Systems
While BURs are comparatively low maintenance, they are not perfect. Regular roof inspections and maintenance are required. What do you need to watch for?
Cracks
Ponding
Blistering
Undulations or waves
Open or split joints
These can be common problems with BURs, but with regular inspections and timely maintenance from a qualified contractor, you can avoid them.  
R&D Contracting and Roofing is a certified contractor with a number of Built-Up Roof Systems manufacturers. We also offer two levels of inspection and maintenance programs to help our clients with existing roofs. We also provide repair services to all commercial roofs, including code-enforced updates and upgrades. Our general construction background makes us a versatile roofing company for your specific business needs and requirements.
Contact us today to discuss the best option for your roofing and waterproofing needs.
---
R&D Construction and Roofing is a licensed and insured commercial construction company serving Miami-Dade, Broward, Palm Beach and Monroe Counties and the Tampa Bay area, specializing in complete commercial roofing, build-outs and tenant improvements. We provide an all-in-one construction solution for our customers from start to finish, including:
WE ARE CERTIFIED IN THE FOLLOWING COMMERCIAL ROOFING SYSTEMS