Servicing all of Florida


Call us today
South Florida
(786) 379-5843
Tampa Bay
(727) 351-2697
Licensed & Insured
CGC1532474
CCC1331844
Email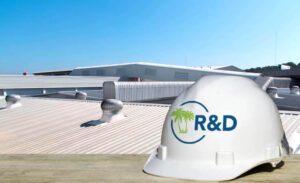 R&D Construction and Roofing is a licensed and insured commercial construction company serving Miami-Dade, Broward, Palm Beach and Monroe Counties as well as the Tampa Bay area specializing in complete commercial roofing, build-outs and tenant improvements.
We provide an all-in-one construction solution for our customers from start to finish. We do what we say and promise. Our company is renowned in South Florida and the Tampa Bay area for its quality commercial construction and tenant build-outs.
We understand that each construction project is a unique challenge structurally and financially. Whether it is a commercial building, apartment complex, industrial park, retail center, restaurant, school, or even a house –  we guarantee that all of our customers will get the best professional service possible for the price.
Why Choose R&D Construction and Roofing
We have years of experience in general construction, custom build-outs and roofing. So when it comes to your project, we will utilize our construction expertise to provide thorough planning, design and complete structural roof installation or repair, all while keeping your budget under control and high-quality workmanship. You can count on us to complete the job right the first time!
At R&D Construction and Roofing, we prioritize providing top-notch construction services at competitive prices to all our customers, whether an industrial park, retail center, restaurant, school, or any other commercial or residential building. Our goal is to establish lasting relationships with our clients based on the cornerstones of our business – integrity, trust, and honesty. Whether you are in Miami-Dade or Tampa Bay, these qualities set us apart from other commercial build-out contractors. Learn more about our construction services.
All of our roofing products, tools and technology meet strict Florida standards to ensure that your roof is installed or repaired with quality craftsmanship, the most durable products on the market, first-rate building materials and high-quality customer service. Our roofs are all guaranteed to withstand the harsh and unpredictable Florida weather. We completely understand how challenging it can be to choose the right roofing solution for your specific situation.
There are many different types of roofs to choose from, including slate,  tile, shingles, metal roofs, and more. R&D Construction and Roofing is eager to assist you in finding the best roofing solution for your specific situation. Learn more about our roofing services